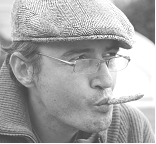 Design engineer (spatial data and representations)
Lecturer
Université Paris 8 - Vincennes-Saint-Denis
CNU (National University Council) Section 23
Geography
Tel: (33) (0)1 49 40 72 83
E-mail: Philippe.gajewski@univ-paris8.fr
Adress : Université Vincennes – Saint-Denis (Paris 8)
RESEARCH FOCUSES

This research focuses on the individual inhabitant or user of geographic space: understanding the current state of societies and territories and their stage of evolution by monitoring rural and peri-urban cafés and bars.


Geography of disability and accessibility.


Exploration of geographical margins using micro-scales or unorthodox objects such as sounds.
GEOGRAPHIC FOCUS

Rural and urban France


Auvergne


Scotland


Île-de-France (Greater Paris)


Peri-urban areas
PUBLICATIONS PRINCIPALES

Gajewski, P., 2010. Maquette à lecture tactile d'espaces publics pour les non-voyants, production UE POPS – Université Paris 8.


Gajewski, P., 2006. Le café et le pub comme lieux de résistance à la folklorisation de la culture locale, In Chez nous : identités et territoires dans les mondes contemporains, Paris, Éditions de la Villette, 160-173.


Gajewski, P., 2005. Le rôle du débit de boissons en milieu rural. Analyse comparée de régions de moyenne montagne en France et en Écosse. Thèse de Doctorat , Université Paris 8, direction F. Plet.


Gajewski, P., Mathieu, N., 2002. Rural restructuring and power distribution and leadership at national, regional and local levels: the case of France, in Leadership and local Power in European Rural Development, Ed Ashgate, Aldershot, Angleterre, 122-144.